Goose Lake Railway LLC
Nexxt Logistics provides a wide spectrum of expertise and operational capacity.
Goose Lake Railway LLC (GOOS) has, since September of 2017, been managed and operated by our parent company Nexxt Rail, LLC. We operate and manage through a contractual agreement with railroad-owner Lake County, OR. GOOS is a Short-Line railroad that runs 55 miles from Lakeview, OR to Alturas CA and then an additional 50 miles on to Perez, CA, where it meets the Union Pacific mainline to Klamath Falls, OR. Up to two trains run weekly-dependably and safely carrying customer products to market.
Goose Lake Railway employs nine staff, including Locomotive Engineers; Conductors; Mechanics and Maintenance Personnel handling repair and replacement of Rail-Bed, Rail Gaging and Separations, Ties, Bridges, Switches, Crossings, Brush Clearance, Fire Prevention, etc.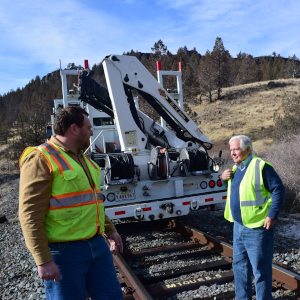 For Information about Goose Lake Railway
Bob Litts Operations Manager 1-800-37NEXXT bob@nexxtrail.com
or Send an Email: